Becoming a fan of horse racing had to start somewhere. Whether it was a trip to the local race track, watching the Kentucky Derby on TV or maybe it was a movie that captured your attention. I have not seen every single horse racing themed movie and I'm not saying these are the definitive five. But I'm guessing that these movies gave some people a beginning into the world of horse racing.
The following is my five favorite horse racing themed movies in order:
5. Secretariat - This is the story of one of the greatest thoroughbreds of all time and I thought they did a pretty good job with it. It describes how the owner, Penny Chenery (who makes a cameo appearance in the film), ends up with Secretariat and his run through the Triple Crown.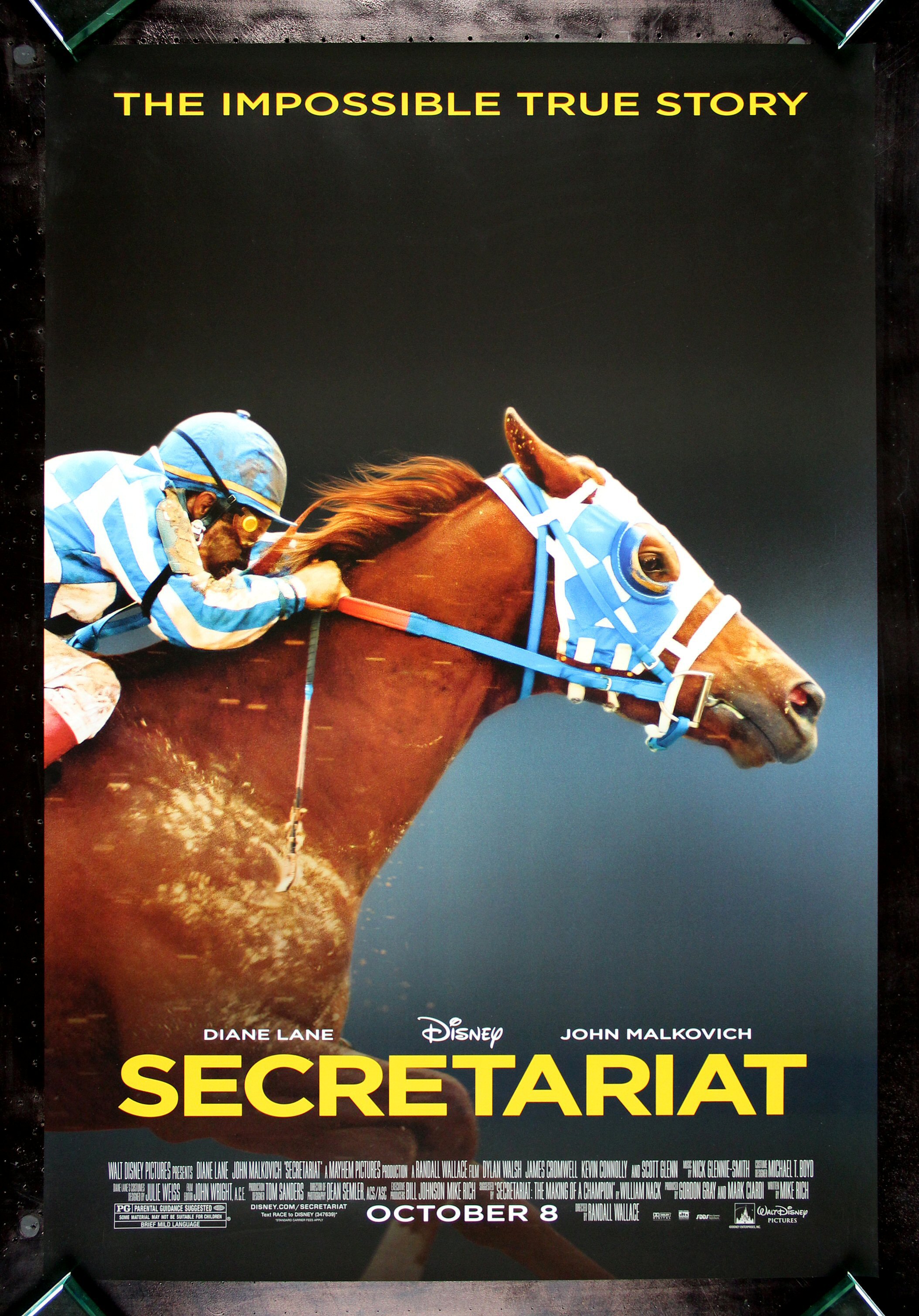 I didn't care for the way they portrayed trainer Pancho Martin (who was the trainer for Sham), but I guess since it was a Disney movie they wanted to have a "villain". The scenes were filmed at Churchill Downs, Keeneland and Evangeline Downs and you can recognize them if you keep your eyes open.
4. The Killing (1956) - I just recently watched this movie for the first time and I really enjoyed it. It keeps you on your toes as to what is going to happen next as the main character, Johnny Clay, takes careful steps to make a race track heist.
This was one of the first full-length films directed by Stanley Kubrick (The Shining, 2001) and all the race track scenes were taken at the now demolished Bay Meadows Race Course. This one probably didn't make any true fans of the sport of horse racing, but I'm sure it could have made some from the money/gambling point of view.
3. Seabiscuit - He was beloved in the 1930's as the runt who became a champion. The movie is based on how Seabiscuit started out as a perennial loser and how he was given a second chance by those involved around him.
Jockey Gary Stevens received good reviews for his portrayal of rival jockey George Woolf and the race track scenes were taken at Keeneland, Santa Anita and Saratoga. Not only is this about the horse, it is about trainer Tom Smith and jockey Red Pollard which makes the movie even better.
2. Let It Ride - For those who have been to the race track and see/know of the many characters you see there, this is a hilarious take of one horseplayer who is having "a very good day".
Most of the movie is shot at Hialeah Park when it was a major race track at the time and I think what makes this so great is that all of us horseplayers have been in Jay Trotter's shoes from the lows to the highs. It is easy to relate to the characters and there are some classic lines in this film.
1. Phar Lap - In terms of story, acting and cinematography this movie has it all. The story of one of the greatest race horses of all time as Phar Lap becomes the "people's horse" as he just keeps winning and winning.
What may be the biggest tragedy of this movie is that it is not available in this country on DVD. Finding a copy on VHS is even tough to find and it may be why not a lot of people know of the movie. But low and behold, you can view this on youtube (click here) though it is a different edit of the one that I've seen as they show the ending first.
Please share your favorite horse racing movies in the comments below.